Project programme
Period
29.10.2009 - 28.04.2014
Project status
Completed
Project table
Database link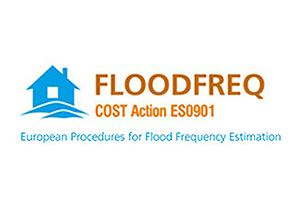 In 2009-2014, representatives of various scientific and research institutions from 25 European countries, including scientists from Hydrology laboratory at Lithuanian Energy Institute, joined COST action ES0901.
The Directive of the European Parliament on the assessment and management of floods (Directive 2007/60/EC) requires the policy makers and operational flood risk managers to consider the effect of environmental change (including climate change) on flood events and invites to develop mathematical modelling methods of a new generation in order to determine the impact of these changes. Physical processes, causing floods in different parts of Europe, are different and not homogeneous within national or administrative boundaries. FloodFreq aimed at comparison and evaluation of different methods for flood frequency estimation under the various climatologic and geographic conditions found in Europe, and different levels of data availability. The main focus of the action is on scientific and technological issues of flood frequency estimation.
The scientific benefits included: (i) creation of a pan-European dataset, which provided a unique opportunity to study regional flood hydrology without the constraints on data availability and heterogeneity imposed by national boundaries; (ii) improved knowledge of the performance of different methods for flood frequency estimation across Europe; (iii) an assessment of using more sophisticated process-based modelling (rainfall-runoff modelling); (iv) development of tools for predicting the effect of environmental change (including climate change) on the characteristics of extreme flood events.
The outputs from FloodFreq were disseminated to academics, professionals involved in operational flood risk management from private and public institutions, and relevant policy makers from national and international regulatory bodies. This Action enabled cooperation between researchers involved in nationally funded research projects allowing a more efficient use of European flood research funding.
Representatives of Lithuania were involved in the activities of the COST action Management Committee and the two working groups: WG2 "Assessment of statistical methods for flood frequency estimation" and WG4 "Impact of environmental change on flood frequency estimates". In the first year, review about existing statistical methods for flood-frequency analysis and flood data availability (WG2) and applied methods for detecting trends in time series of hydrological extremes and non-stationary flood frequency analysis (WG4) in Lithuania was prepared. Next, a report on historical river flood data in Lithuania was presented. River runoff modelling in the selected river catchments in each represented country (the Merkys River catchment was selected as a case study from Lithuania) was carried out according to the same methodology: 15 climate models and 8 downscaling methods. On-going and planned further scientific work has been discussed in regular meetings. The outcome of the performed research was presented in two international conferences: in Greece (Volos) and Germany (Potsdam) organised by FloodFreq action.
Coordinator: COST Representation in Brussels, Belgium, ESSEM scientific supervisor Carine Petit
Partners:
Austria, Mr Jose Luis SALINAS
Belgium, Prof Patrick WILLEMS
Belgium, Prof Benjamin DEWALS
Bulgaria, Ms Snezhanka BALABANOVA
Bulgaria, Prof Neyko Mateev NEYKOV
Cyprus, Dr Antonis TOUMAZIS
Cyprus, Mr Eftychios MALIKIDES
Czech Republic, Dr Sarka D. BLAZKOVA
Czech Republic, Dr Václav DAVID
Denmark, Dr Karsten ARNBJERG-NIELSEN
Denmark, Dr Henrik MADSEN
Finland, Prof Jukka KÄYHKÖ
Finland, Dr Bertel VEHVILÄINEN
France, Dr Michel LANG
France, Mr Emmanuel PAQUET
Germany, Prof Bruno MERZ
Greece, Prof Athanasios LOUKAS
Greece, Dr Andreas EFSTRATIADIS
Hungary, Mr Gábor BÁLINT
Hungary, Dr Imre BONTA
Iceland, Prof Sigurdur GARDARSSON
Iceland, Dr Philippe CROCHET
Ireland, Mr Oliver NICHOLSON
Italy, Prof Alberto MONTANARI
Italy, Dr Antonio LO PORTO
Latvia, Dr Maris KLAVINS
Lithuania, Dr Jurate KRIAUCIUNIENE
Lithuania, Dr Diana SARAUSKIENE
Netherlands, Dr Paolo REGGIANI
Netherlands, Dr Pieter VAN GELDER
Norway, Dr Donna WILSON
Norway, Dr Deborah LAWRENCE
Poland, Prof Witold STRUPCZEWSKI
Poland, Prof Kazimierz BANASIK
Portugal, Prof Teresa ALBUQUERQUE
Slovakia,  Prof Jan SZOLGAY
Slovakia,  Prof Silvia KOHNOVA
Slovenia, Dr Mojca SRAJ
Slovenia, Dr Mira KOBOLD
Spain, Prof J. Javier DIEZ
Spain, Dr Luis GARROTE
Turkey, Dr Gulay ONUSLUEL GUL
Turkey, Prof Ismail YUCEL
United Kingdom, Dr Neil MACDONALD
United Kingdom, Dr Thomas KJELDSEN