Project programme
Period
01.01.2012 - 31.12.2013
Project status
Completed
Project table
Project website
Database link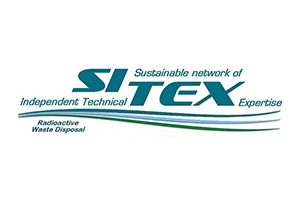 SITEX aims at identifying the efficient means that should be developed through the establisment of a sustainable expertise function network within a European framework with the view to:
allowing mutual understanding between regulatory bodies, TSOs and waste management organisations (WMOs) on (i) the regulatory expectations at decision holdpoints and (ii) how the scientific and technical elements carried out by the WMOs comply with these expectations. In that perspective, the needs in clarification of existing regulatory guidance or in developing new guidance will be addressed. Exchanges with IGD-TP on that issues is favoured. In complement, role of expertise function and the needs for improving it will be discussed;
in coordination with or in complement to WMO's research program, defining TSO's R&D program that would ensure independent capabilities development for reviewing the Safety Case and assessing the scientific arguments provided by WMOs. TSO's R&D program and priorities will be adressed by favouring close interaction with IGD-TP and seeking for joined research activities with the WMOs in order to foster common understanding of technical key points for safety and avoiding undue duplication;
ensuring competence building of experts in charge of technical review and transfer of knowledge on waste safety and radiation protection; the needs in guidance development for harmonising the technical review activity and in dedicated training and tutoring for spreading the expertise culture and practices will be addressed;
sharing, where needed, expertise approach with various stakeholders, in a manner more integrated than when only communication or dissemination are envisaged. Compilation of past actions and learning of ways of implication of stakeholders in the process of technical review will be discussed.
Project's main objective was to identify efficient means to implement for the establishment of a European sustainable network of independent technical expertise in the field of radioactive waste disposal. It is intended for strengthening general and mutual understanding of different aspects regarding repository safety among the regulatory institutions and organizations providing technical safety expertise and waste management. Experts of Nuclear Engineering Laboratory together with other partners identified the priorities for research where technical experts should gain competence, carried out the overview regarding the available equipment and possibilities of organizations participating in the project to perform this research, international requirements and recommendations regulating independent expertise of safety assessment. The practice of different countries were overviewed, the proposals for the development of common methodology, for competence development of technical experts, for effective public involvement in geological disposal process were formulated.
Total cost: 1 363 512,80 EUR (LEI part: 38 520 EUR)
Coordinator: INSTITUT DE RADIOPROTECTION ET DE SURETE NUCLEAIRE, France
Participants:
FEDERAL AGENCY FOR NUCLEAR CONTROL, Belgium
GESELLSCHAFT FUER ANLAGEN- UND REAKTORSICHERHEIT (GRS) MBH, Germany
UJV REZ, a.s., Czech Republic
BEL V, Belgium
LIETUVOS ENERGETIKOS INSTITUTAS, Lithuania
DECOM AS, Slovakia
AUTORITE DE SURETE NUCLEAIRE, France
STRALSAKERHETSMYNDIGHETEN, Sweden
MINISTERIE VAN ECONOMISCHE ZAKEN, LANDBOUW EN INNOVATIE, Netherlands
CANADIAN NUCLEAR SAFETY COMMISSION, Canada
MUTADIS CONSULTANTS SARL, France
EIDGENOSSISCHES NUKLEARSICHERHEINSPEKTORAT ENSI, Switzerland
NUCLEAR RESEARCH AND CONSULTANCY GROUP, Netherlands
EUROPEAN NUCLEAR SAFETY TRAINING AND TUTORING INSTITUTE, France
MINISTERE DE L'ECOLOGIE, DU DEVELOPPEMENT DURABLE DES TRANSPORTS ET DU LOGEMENT, France