Project programme
Period
01.02.2016 - 31.07.2019
Project status
Completed
Project table
Project website
Database link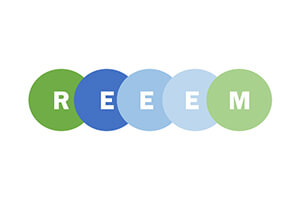 REEEM AIMS to gain a clear and comprehensive understanding of the system-wide implications of energy strategies in support of transitions to a competitive low-carbon EU energy society, given the objectives and framework outlined in the Strategic Energy Technology Plan. The provisions of the energy services in this society will be defined by their sustainability, affordability, efficiency, energy security and reliability.
The supportive technology impact assessments will target the full integration from demand to supply and from the individual to the entire system. It will further address the trade-offs across society, environment and economy along the whole transition pathway.
A focus on behavioural aspects and on technology research, development and innovation will be included. The strong integration of stakeholder involvement in the whole process of energy system development will be addressed as a main aspect of the project. In support of this overall aim, this project is developed to address four main objectives: (1) to develop an integrated assessment framework (2) to define pathways towards a low-carbon society and assess their potential implications (3) to bridge the science-policy gap through a clear communication using decision support tools and (4) to ensure transparency in the process.
Total cost: 3 997 458,75 EUR (LEI part: 156 135 EUR)
Coordinator: KUNGLIGA TEKNISKA HOEGSKOLAN, Sweden
Participants:
AALTO-KORKEAKOULUSAATIO, Finland
AARHUS UNIVERSITET, Denmark
DANMARKS TEKNISKE UNIVERSITET, Denmark
ENERGETSKI INSTITUT HRVOJE POZAR, Croatia
KIC INNOENERGY SE, Netherlands
LIETUVOS ENERGETIKOS INSTITUTAS, Lithuania
REINER LEMOINE INSTITUT GGMBH, Germany
SPF TOKNI, Faeroe Islands
UNIVERSITY COLLEGE LONDON, United Kingdom
UNIVERSITAET STUTTGART, Germany